Almacena Trusted Producer
Ruhunde Jeunes Caféiculteurs (RUJCAF) works with 3700 farmers from Kivu region, producing Arabica Bourbon coffee grade A and B. RUJCAF provides both technical support (through SVC) and financial (through micro-finance institutions). They also work together with the organization AVEC for supporting women and young integration in the communities.
Ruhunde Jeunes Caféiculteurs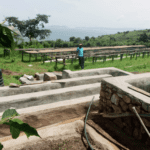 Key facts
Products: Green Coffee
Variety: Arabica Bourbon
Grade(s): A and B
Supply Capacity: 20 MT
Harvest period January-August
Corporate Social Responsibility (CSR)
RUJCAF provides support to the community and farmers by giving technical training (SVC), facilitating access to micro-credit institutions and the access to the work place for women and young people in the community.
About us
Foundation date: August, 2020
Number of employees: 3700 farmers
Annual Production: 70 MT
Certification: In Progress (Organica & Fairtrade)
What we DO
Products: Arabica Bourbon
Facilities: Wet Mill Bugingi/Mihimba, Dry Mill
Capacity: 20 MT

Check RFQ for Availability & Prices
or
Contact Us

Ruhunde, bubale 1er, Mbinga-Nord Kalehe Sud-Kivu, DRC
Danny Fazili Bahati
Telephone: +243 971 795 808