Almacena Trusted Producer
Ruhunde Jeunes Caféiculteurs (RUJCAF) lavora con 3700 coltivatori della regione del Kivu, producendo caffè Arabica Bourbon di grado A e B. RUJCAF fornisce sia supporto tecnico (tramite SVC) che finanziario (tramite istituzioni di microfinanza). Collaborano inoltre con l'organizzazione AVEC per sostenere l'integrazione delle donne e dei giovani nelle comunità.
Ruhunde Jeunes Caféiculteurs
Che cosa possiamo fare per voi?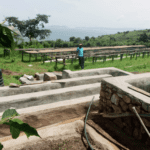 Aspetti principali
Prodotti: Green Coffee
Varietà: Arabica Bourbon
Gradi: A and B
Capacità produttiva: 20 MT
Periodo di raccolta January-August
Responsabilità sociale d'impresa (CSR)
RUJCAF provides support to the community and farmers by giving technical training (SVC), facilitating access to micro-credit institutions and the access to the work place for women and young people in the community.
Chi siamo
Data di fondazione: August, 2020
Numero di dipendenti: 3700 farmers
Produzione annuale: 70 MT
Certificazione: In Progress (Organica & Fairtrade)
Cosa facciamo
Prodotti: Arabica Bourbon
Strutture: Wet Mill Bugingi/Mihimba, Dry Mill
Capacità: 20 MT

Check RFQ for Availability & Prices
o
Contattaci

il nostro lavoro ispira sorrisi
Ruhunde, bubale 1er, Mbinga-Nord Kalehe Sud-Kivu, DRC
Danny Fazili Bahati
Telephone: +243 971 795 808