Almacena Trusted Producer
Ruhunde Jeunes Caféiculteurs (RUJCAF) arbeitet mit 3700 Bauern aus der Region Kivu zusammen und produziert Arabica Bourbon Kaffee der Klassen A und B. RUJCAF bietet sowohl technische Unterstützung (über SVC) als auch finanzielle Unterstützung (über Mikrofinanzinstitute). Sie arbeiten auch mit der Organisation AVEC zusammen, um die Integration von Frauen und jungen Menschen in den Gemeinden zu unterstützen.
Ruhunde Jeunes Caféiculteurs
was können wir für dich tun?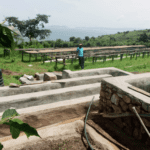 Wichtige Fakten
Produkte: Grüner Kaffee
Vielfalt: Arabica Bourbon
Note: A and B
Lieferkapazität: 20 MT
Erntezeit January-August
Corporate Social Responsibility (CSR)
RUJCAF provides support to the community and farmers by giving technical training (SVC), facilitating access to micro-credit institutions and the access to the work place for women and young people in the community.
Über uns
Gründungstag: August, 2020
Anzahl der Angestellten: 3700 farmers
Jährliche Produktion: 70 MT
Zertifizierung: In Progress (Organica & Fairtrade)
Was wir tun
Produkte: Arabica Bourbon
Einrichtungen: Wet Mill Bugingi/Mihimba, Dry Mill
Kapazität: 20 MT

Check RFQ for Availability & Prices
oder
Kontaktiere uns

Unsere Arbeit inspiriert zum Lächeln
Schick uns eine Nachricht
Ruhunde, bubale 1er, Mbinga-Nord Kalehe Sud-Kivu, DRC
Danny Fazili Bahati
Telephone: +243 971 795 808